I am looking for any Witschger descendants in Xenia, Ohio or Hamilton County, Ohio who are researching the Witschger genealogy line. Specifically if your Father or Grandfather was named Herb Witschger? His mother was named Ethel. He would have been born about 1943 and has since passed on. (I believe from a heart attack).
In the year 2000 when I talked to his 'apparent' Dad named Carl on the telephone, I was told that Ethel was still alive and living someone near Xenia, Ohio. I do not know if Carl Witschger was ever married to Ethel but I know they went out with one another and Carl was no longer with her at the time he and I talked on the phone.

I contacted Carl Witschger (living in Cincinnati) because my Uncle was a friend of his and Carl is the one who told me Herb's name. Carl verified to me that his name is on Herb's birth certificate as the father, even though he was not truly Herb's birth father. He also told me that Herb never knew this fact. Herb was raised believing that Carl was indeed his birth father, even to his dieing day. In 2000 when I spoke with Carl on the telephone, Carl was living in a trailor park. I also have in my notes the word (Blore). I am not sure what Blore is? Possibly Ethel's last name? I also have in my notes (Good Sam?) Possibly where Herb was born? I also have in my notes (Xenia)

I have information on Herb's true birth father if anyone cares to contact me. I have a hand written letter dated July 21, 1943 from the true birth father where he asks about Ethel & the baby.

I am truly sorry that I didn't attempt to contact you years ago when this information was all FRESH in my mind, and when my mother was still alive prior to 2003. You are my blood cousins and I do not want you researching the wrong genealogy bloodline.
I would also like to meet you.

I did a search on the Internet for the name Herbert Witschger and I found the following information which I believe is the same Herbert Witschger who is my blood cousin.

As of August 21, 2016, There is now DNA evidence to help show that my information is correct.
Herbert Witschger's biological father was indeed my Uncle Ernest Victor Bond, who was killed in WWII on Feb. 1st, 1944.
Family photos can be viewed on Facebook at this link:
http://www.facebook.com/album.php?aid=292253&id=513311562
I am happy to announce that I finally found my long lost cousins, in late October, 2010
I've learned that Herb died of emphaysemia, NOT a heart attack. His mother's name was indeed, Ethel Blore.
Herb's first child was born in the Phillippines while he was in the armed services. Her name is Ramona Juth Lopez & I have been in contact with her on Facebook.
After that, Herb was married 3 times. His 1st marraige was to Bonnie C. Rainey (Corky) 1960-1969. Herb was 20 she was 17. Married in San Diego, California on June 20, 1963. They had a daughter named Holly.
Herb's 2nd marriage was to a woman named Jennifer. From this marriage, Herb had 3 children, Bettina (Sept. 1967), Herbert G. (Herbie)(Aug. 1969) and Paul (Nov. 1970). Jennifer later married a man by the name of Herbert J. Schaffner whom adopted Bettina, Herbie, and Paul, giving them his last name. I have not found any of these individuals yet. Several years ago however, I was in contact with one of these 3 for a brief time but I misplaced the email address. So if you happen across this page again,
please contact me again
as I might have given you some incorrect information by mistake. Thank you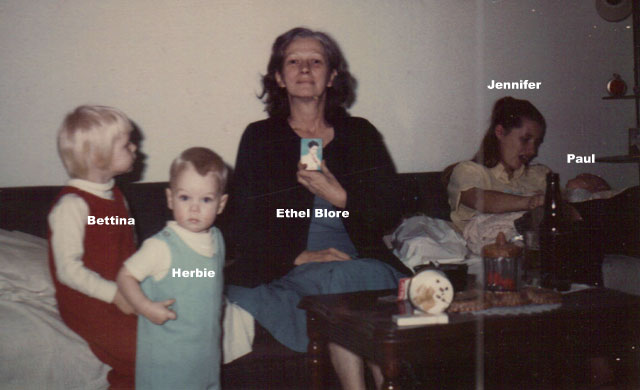 Herb's 3rd marriage was to Mary Virginia Caruso on Nov 25th 1975. They have 3 daughters together, Maria Ann, Victoria Sue, & Sue Ann. I am now corresponding with this family and sharing information.
I have also learned recently in December 2015, that Herb had another son, John Curless, born November 13, 1969, mother's name, Peggy Ventura. I was extremely delightled to have the opportunity to meet my cousins John & Sue Ann for the very first time on September 18, 2016. In addition, I also finally got to meet Sue's mother, Mary Witschger and Sue's son, Zane.
Gary Gideon, Sue Ann Huston, & John Curless meet for the very first time on September 18, 2016.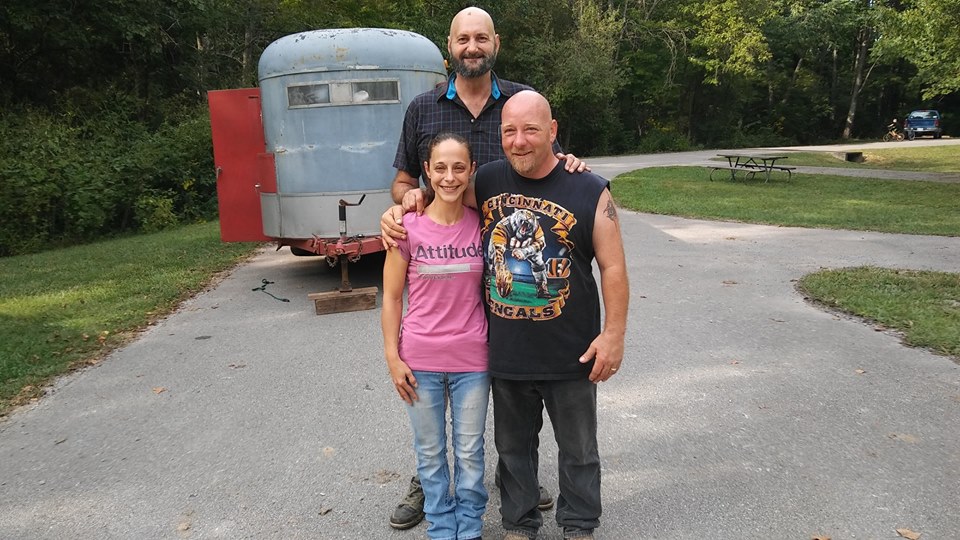 Here is Herb's death notice as it appeared in the Cincinnati Post on 1/21/1993
"Cincinnati Post - 1/21/1993 - Page 7B, Col 5 - Death Notice
Herbert Charles, 49 years old, beloved son of Ethel Witschger, husband of Mary Virginia Caruso Witschger, father of Maria, Victoria, Sue, Ann, Betina, Herbert Jr., Paul, Holly and Ramona, five grandchildren. Memorial Mass at St. Bridget Catholic Church, 312 Fairground Road, Xenia, Ohio, 10 a.m., Saturday, January 23.
Death Certificate Volume 29263 Certificate 002657"
I would still like to find Holly Rainey, Bettina Schaffner, Herbert Schaffner (Herbie), & Paul Schaffner.
Thank You